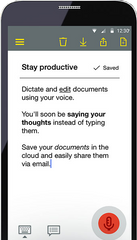 Today we are finding that more and more professionals in all fields are becoming more mobile and working from home, the office, multiple office locations and even at different client sites. Often times your email and reports are piling up with little time to complete your required documentation in between locations.
Its well researched that the average person can be 45% more productive by using speech recognition over typing. Productivity can increase even more with the use of templates and voice macros which speed up the repetitive part of your documentation process.
Nuance has released a mobile friendly version of its industry leading speech recognition software called Dragon Professional Anywhere. Before, Dragon was a large and intense program to install on your computer and it was limited to the amount of devices you could use it on, and syncing your profile between computers could become challenging or worse.
Now, with the Dragon Professional Anywhere product you have the flexibility you need to use speech recognition on your desktop, laptop, and now even smartphone or tablets. Since Dragon Professional Anywhere is a cloud based subscription, you can access it from anywhere with a internet connection, and use it on as many devices as you like.
In this scenario, if you are driving between offices and needed to remain productive and create a letter, you could open the Dragon Anywhere mobile app on your iPhone or Android and begin dictating it using the same highly accurate speech engine you get from the computer version. Once the letter is completely dictated, you can email it or upload it to a location for final review when you get back to the office.
Fire up Dragon Professional Anywhere on your laptop and dictate your email replies with lightning speed. Create voice macros to quickly insert repetitive text into your documentation, or bring up your header or signature for your letters.
If you want to learn more about Dragon Professional Anywhere you can click the logo below.