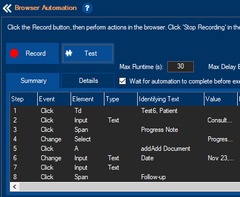 Automating your browser based EMR can save you time and the hassle of multiple repetitive clicks when navigating your EMR. To voice automate your browser based EMR all it takes is a Fusion Narrate subscription and a creating a custom shortcut using the browser automation macro recorder. End users, technical staff, admin and even our support staff can assist in the creation of a end to end workflow in your EMR.
Browser automation is supported in Google Chrome and Microsoft Edge browsers, when the Fusion Narrate browser extension is installed.
To install the extension, you can search the extensions in your browsers' extension store or use the Narrate Help menu to install.
Watch the video below to see browser automation in action and how easy it is to create your own.
Go full screen for best view.