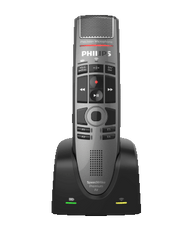 One of the most common questions when purchasing Dragon Medical One is which microphone is the best?
Lets skip right to the answer: Philips Speechmike Air SMP4000 Discount code: VTTS_Hardware 
You might find conflicting answers around the internet suggesting that the Powermic is the better choice. While that microphone, produced by Nuance, may be a great choice, we at VTTS believe the Philips Speechmike Air pricing and features out perform the Powermic. Lets start with some of the biggest advantages:
Pricing: The Powermic retails for $429 while the Speechmike Air is $415. Right up front you are saving money when choosing the Speechmike Air for Dragon Medical One.
Connectivity: The Powermic is a wired microphone while the Speechmike Air is wireless. The wireless isn't just Bluetooth either, the Speechmike Air uses lossless audio transmission which provides the best and most clear audio to Dragon for unparalleled accuracy. You can also purchase extra docking stations to move from computer to computer by quickly syncing the Speechmike to the dock by placing it in for 2-3 seconds. There is also an optional USB AirBridge Dongle for laptop use.
Accuracy: The Speechmike has a floating microphone, a special coating to reduce hand contact noise, button noise suppression technology, noise cancellation and lossless audio transmission. This high tech microphone provides higher quality audio which is a must for great accuracy.
Battery life: The Speechmike Air boasts all day battery life of non-stop usage. Forget to charge? The Speechmike fast charges to 75% of its battery life in 20 mins. Some of our users report that their device charge lasts the entire work week while travelling and turning the device off between use.
Warranty: The Speechmike Air SMP4000 includes a 1 year warranty on the device. VTTS will process any warranty claims for you.
I hope this helps you decide which microphone to buy when looking for the best microphone to use for Dragon Medical One.
Contact us: sales@voicetotextsolutions.com or 813-600-5087